Planning a trip to Hawaii
The island of Oahu is the most popular tourist destination in Hawaii and Waikiki is the most popular place to stay on Oahu. Waikiki makes a great place to base your Hawaiian vacation due to the many hotels, restaurants, shopping areas, and of course the world famous Waikiki beach. When you want to get away from the hustle and bustle of the tourist area, Waikiki is just a short distance from rainforests, hiking trails, historic sites, scenic lookouts, and secluded beaches. There are many transportation options from Waikiki including rental cars, cabs, tour buses, and public transportation on "theBus". Below is a list of things to do in Hawaii, divided into sections that can be done in one day from Waikiki. The one day itineraries below assume a relaxed pace. If you want to see and do more in the time you have, there are notes about where 2 days of activities can be combined into one.
Day 1: Waikiki
Waikiki, on the south shore of the Hawaiian island of Oahu, is a district of the city Honolulu and home to one of the most famous beaches in the world. Waikiki hosts numerous hotels, restaurants, shopping areas, and 1.5 miles of beaches. Everything in Waikiki is within walking distance, or you can take "theBus". You could spend your entire vacation in Waikiki (but don't, there are too many other cool things to see and do on the island).
Waikiki is best known for Waikiki beach. Actually, Waikiki beach consists of a series of consecutive beaches. Each beach has a unique personality. The Waikiki beaches, from east to west, are:

San Souci Beach is a good swimming beach with calm waves due to the protection by a reef. Located on the far east section, it tends to not be as crowded.
Queens Surf Beach is a good snorkeling beach due to clear and calm waters.
Kuhio Beach has an offshore retaining wall that keeps the water calm. This is a great beach for families.
Royal Manoa Beach is located right in the heart of Waikiki beach and is one of the most crowded sections.
Fort DeRussy Beach is located next to a park with picnic tables and shelters. It is also one of the more crowded sections.
Kahanamoku Beach, named after legendary surfer Duke Kahanamoku, includes a man-made lagoon in front of the Hilton Hawaiian Village.

Waikiki boasts many shopping areas including:

Ala Moana Beach Park (which includes Magic Island) is a less crowded park and beach next to Waikiki. It has picnic tables, shallow calm water, and is a great place to watch a sunset.
Sailboat ride on a catermaran. There a many catermarans that sail from waikiki. They range from small 6 person boats to large boats that seat several hundred. Sightseeing cruises, snorkeling cruises and sunset dinner cruises are abundant.
Try surfing (start with a boogie board to get used to the waves) Surfing lessons are available in lots of places along the beach. Beach vendors don't require reservations, just show up for lessons

Waikiki aquarium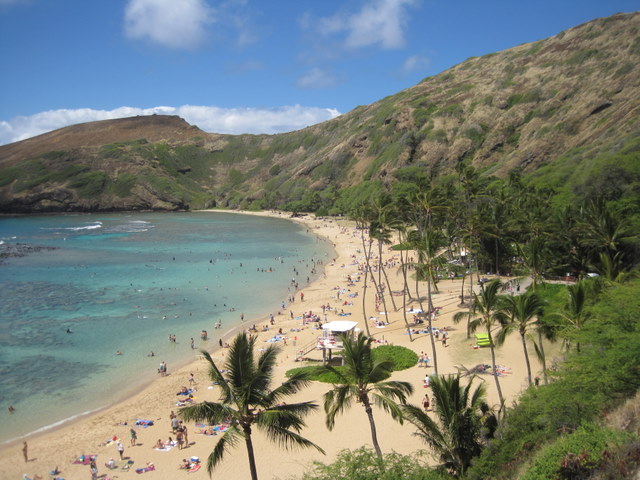 Hanauma Bay
Day 2: Snorkle at Hanauma Bay
Hanauma bay nature preserve is one of the most popular tourist destinations on Oahu. The curved bay protects the beach from the waves and the coral attracts all kinds of colorful tropical fish, sea turtles, and other sea life making this one of the best snorkeling spots in Hawaii. Beginning snorklers can stay in shallow, protected water and still see amazing fish. You can see fish in places that are only waist deep. Lifeguards are on duty. More advanced snorkelers and scuba divers can move into deeper waters. There is a large sandy beach, picnic areas, and trails with breathtaking views.
Hanauma bay is located on the southeast coast of Oahu about 10 miles east of Waikiki off route 72 (the main coastal highway). It is easily reachable by car, bus (bus #22 from Kuhio ave in Waikiki), or taxi cab. There are also tour companies that will pick up at your hotel and provide snorkel gear. Get there early. The parking lot fills up by late morning, the bay gets crowded, the lines are long, and the water is not as clear.
Hanauma bay is open from 6am-7pm in the summer and 6am-6pm in the winter. It is closed on Tuesdays. Admission cost is $7.50 per person. Parking is $1 per car. A snack bar is available, or you can bring a picnic. Snorkel gear rental is available. Locker rentals are available to store valauables. Restrooms and showers are available.
You can easily do Hanauma Bay in 1/2 day. If you want to do more on the same day, drive the rest of the south shore. See south shore details below.
Day 3: South Shore
The South Shore of Oahu has many beaches, scenic pulloffs, and hiking trails. The best way to see the south shore is to rent a car and drive. The city bus (theBus) also travels this route, so you can get to all of these places on the theBus. Bigger surf here, especially in the summer, means some of the beaches may not be as safe for swimming. But they can be great for body boarding and boggie boarding for experience people. There are not a lot of options for lunch along the South shore. Hanauma Bay and Sea Life park both have snack bars.
Drive 4 miles from Waikiki to Diamond Head crater. There is a very nice 1 mile trail to the top with spectacular views of the ocean, Waikiki, and the inside of the crater. The hike will take 1-2 hours. Or you can drive into the crater, look around, and be on your way in just a few minutes.
Drive 17 miles to Hanauma Bay. Hanauma Bay is one of the most popular snorkeling spots in Hawaii. If you don't want to snorkle, at least pull off in the scenic lookout area. The Bay is absolutely beautiful.
Drive about 2 miles to Halona Blow Hole. The blow hole is more spectacular at some times than others, depending on the surf.
Drive less than 1/2 mile to Sandy Beach. This beach is popular for body boarding, but not safe for swimming when the surf is up. Restrooms are available here.
Drive about 1 mile to Koko Head botanical garden and Koko head trail. The botanical garden is nothing spectacular, but it is free. The trail is about 1 mile each way. It is steep and there is no shade, but provides a great view at the top.
Drive about 1 mile to Makapu'u lighthouse trail. It is a relatively easy 1 mile (2 miles round trip) hike. The trail is paved. The view from the top is absolutely magnificient. If you don't want to hike the trail, drive just past the parking area and there is a scenic pulloff with a similar view (not a panoramic view like from the top, but still a nice view).
Drive less than 1 mile to Makapu'u beach. Restrooms are available (not very clean). Strong waves and currents make it not the safest for swimming. (this is really on the east shore, not south)

Sea life Park is right across the street from Makapu'u beach. A restuarant is available.
Could optionally visit Mariner's Ridge trail. Great views from the ridge, but long (3 miles rt) and difficult hike.
The fastest way back to Waikiki is the return the same route. Or you could continue up the east coast and return via Pali Highway.
Day 4: Polynesion Cultural Center
The Polynesian cultural center is a living museum highlighting the culture of the polynesian islands.
Polynesia is a large group of islands, including the Hawaiian islands, located in the Pacific ocean. The Polynesian islands include Hawaii, Samoa, New Zealand, Fiji, Tonga, Easter Island, Tahiti, and French Polynesia. The people of these islands are called Polynesians.
The Polynesian cultural center can easily be an all day activity, or just a couple of hours. Choose one of more of the three main activities:
Polynesian Villages: Eight island villages and exhibits representing the Islands of Aotearoa New Zealand, Fiji, Hawaii, Samoa, Marquesas, Rapa Nui, Tonga and Tahiti.
The Luau: Ali'i Luau.
The evening show: HA Breath of Life.
Day 5: North Shore
The North Shore is one of the prettiest drive in Hawaii.
A map of a possible route is shown to the right.
Drive 30 miles from Waikiki to Kahana Bay (picturesque beach) via highway H3 (H3 is a very cool scenic drive).
Drive 7 miles to the Polynesian culture center. You may want to take a full day for this on a different day, but you can get a taste in a couple of hours. (admission fee).
Drive 1 mile to La'ie point. A very scenic view of several small islands and a natural arch.
Drive 1.5 miles to Moku'auia Island (also called Goat Island). You can wade out to the island (wear reef shoes). There is a beach on the island that is never crowded.
Drive 4 miles to Kawela Bay/Turtle Bay. The area is protected from large waves providing good swimming and snorkeling
Drive 6 miles to Sharks Cove. This is one of the best places to snorkle. The water is clear and there are lots of fish and some turtles.
Drive 1 mile to Waimea Bay. This is a big surfing spot in the winter. Restrooms are available.
Waimea valley audubon center is one of the best gardens on the island. (used to be Waimea Falls Adventure Park). There is a waterfall where you can swim. (admission fee).
Drive 3 miles to Laniakea Beach (also called Turtle Beach). There are lots of turtles, which are somewhat tame.
Drive 3 miles to Hale'iwa, the last (or first) stop in the north shore. Hale'iwa is a historic surf town and biggest town on north shore. Restaurants are available here. Hale'iwa Ali'l beach park is good for picnics and swiming. Restrooms are available.
Could continue to drive west on hwy 930 (Farrington hwy). There are isolated beaches in this area and a 4 wheel drive road after the pavement ends. You can hike from the end of the paved road to the northwest tip of the island.
Drive 8 miles to the Dole Pinapple plantation. Allow 1-2 hours. The visitor center is free. Also available: Plantation tour $5, pinapple express $8, maze $6. This is not one of the best attractions and could be skipped if you are short on time.
Drive 25 miles back to Waikiki
Day 6: Downtown Honolulu and sites just north of Honolulu
Map of possible route

Drive 15 minutes from Waikiki to Pu'u 'Ualaka State Park. Open 7am-7:45pm, free, restrooms and picnic shelters.
Walk 1/2 mile (1 way) on Ualaka trail. Great views.
Drive 6 mile loop on Round Top Drive to Tantalus Drive. Stop at several lookouts. The road is steep and very windy, but very scenic with great views.
Drive 1.5 miles to the Punchbowl. The Punchbowl is a war memorial cemetary inside a volcanic crater. Open 8am-6:30pm, free.
Drive 5 miles from the Punchbowl to Manoa Falls. Hike 3/4 miles (1 way) to Manoa Falls. It is a nice hike to a nice waterfall. The trail meanders through a tropical rainforest to an 100ft waterfall. It may be wet and muddy. Allow about 2 hours.
Lyon Arboretum is just next to manoa falls trail. It features plants and hiking trails. Open M-F 9-4, Sat 9-3, closed Sunday.
Drive 8 miles from Manoa Falls to Downtown Honolulu.
Iolani Palace. The only royal residence in the US. Mon-Sat 9-5 (ticket window closes at 4), $20 (guided tour), $12 (self guided), limited parking, allow 1-2 hours
King Kamehameha Statue. Across from Iolani Palace.
Kawaiahao church. Within a block of Kamehameha Statue and Iolani Palace. First christian church on oahu, 1842.
Aloha tower. Tower with observation deck. Shopping. Close to chinatown. Biship Museum. 9-5, $17.95. Several exhibits, history and hawaiian culture, "studying and preserving the history of hawaii", volcanology & oceanology, closed tuesday.
Day 7: Windward (east) Coast
Map of possible route, The northmost 2 stops could be done on the way to the North Shore instead. winward coast info
Windward side gets a lot more rain, waikiki gets almost none

Drive 9 miles to Nuuanu Pali Lookout, lookout with panaramic view, nice drive up, $3 per car, views of windward coast, windy and cool at the top.
Drive 7 miles to Kailua Bay, 3 nice beaches:

Kailua Beach park

, reviews
One of the best beaches on Oahu, clear blue calm water, less crowded than waikiki, parking, restrooms and showers available, restaurants nearby, good for kayaking, calm reef protected waters, offshore islands.
Lanikai Beach (east of Kailua Beach), also very nice but limited parking.
Kalama Beach (west of Kailua Beach), family firendly beach with mild waves.
Rent kayaks at Kailua Beach, kayak out to a couple of small islands that are close.
Drive 16 miles to Kualoa Regional park, reviews,
Drive 7 miles to Valley of the Temples (japanese temple).
Drive 15 miles back to Waikiki.
Day 8: Pearl Harbor
Pearl Harbor, still an active navy base, houses several World War II memorials, museums, and ships. You can easily spend an entire day at Pearl Harbor, or just drop in for a few minutes and see the visitor's center and the harbor so you can say you've been there. The Pearl Harbor visitor center is about a 45 minute bus ride (bus 42 Ewa Beach) or 25 minute drive from Waikiki.
Day 9: Leeward (west) coast
Day 10: possible day to visit another island
---