Manoa Falls
Manoa Falls is the most popular waterfall on Oahu. A 1.6 mile (round trip) hike through a lush rainforest leads to the 100ft waterfall. The hike features bamboo groves, tropical flowers, and towering trees before reaching the magnificent Manoa Falls. This trail is very popular because it is a relatively easy hike, it is easily accessible from Waikiki, and it ends with a beautiful waterfall. When you visit Hawaii, you have to see at least one waterfall. Manoa Falls is the easiest waterfall to get to from Waikiki. The Manoa Valley is very different from most of the other tourist sights on Oahu. Most of the other popular attractions are sunny, near the beach, have panoramic views, or involved historical sights. The Manoa falls trail is shaded, often raining, and the mountains and vegetation restrict the view. It is very interesting to experience the contrast.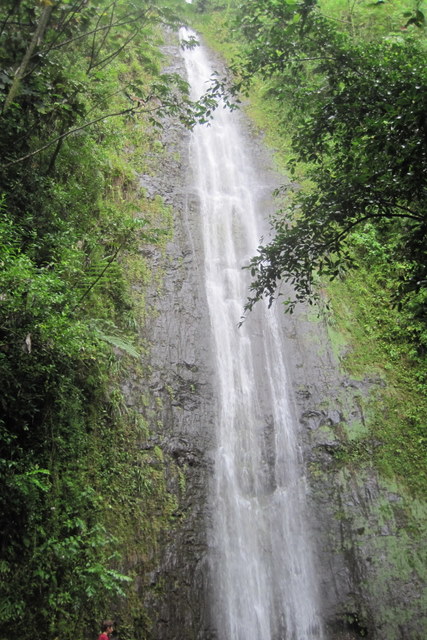 Manoa Falls
Manoa Falls Trail Description
The trail is a moderate 1.6 mile round trip hike at the base of the Ko'olau Mountains. Allow at least an hour and half for the hike, maybe two hours. Most of the trail is shaded since it wanders through a tropical rain forest. It is often rainy on the trail, even when it is sunny in Waikiki. Brief showers often pop up. The trail is usually muddy, so be prepared to get your shoes (and maybe more) dirty. Hiking boots are not absolutely necessary for this trail. But you need decent shoes, not flip flops. The trail is well maintained, but the terrain is rocky and uneven at some places and will be slippery when wet (which is most of the time). The gentle slopping trail gains about 600 feet elevation over the .8 miles to the falls. Consider bug spray as mosquitoes can be a problem on the trail.
Food
Rainbow's End snack shop is located near the trail head. They serve sandwiches, hot dogs, and snacks. Their shave ice is highly recommended after a hike. They also have hiking supplies like water bottles, insect repellent, and rain ponchos.
Treetops Restaurant, also located near the trail head, is a second story restaurant with a beautiful canopy-level view of the rainforest where parots are often seen in the tree tops. It is only open for lunch.
How to get to Manoa Falls from Waikiki
Drive:
Driving directions to Manoa Falls from Waikiki: Take Kalakuau Ave (the main road through Waikiki) to Philips St. Turn right on Philips St. Take the first left onto Punahou St. Punahou St. turns slightly right and becomes Manoa Road. Follow Manoa Road to the end of the road. Note: East Manoa Road splits off to the right. Stay left on Manoa Road. Parking is available for $5. Drive time is about 15 minutes from Waikiki. To find Manoa falls on a GPS or an online map, use the address for Treetops Restaurant which is 3737 Manoa Road, Honolulu, Hawaii 96822. See map to Manoa Falls to the right.
Public Transportation (theBus):
Take bus #5 from Ala Moana center to the last stop. The bus takes about 25 minutes (more like an hour when you add wait time and walking time). Walk about 1/2 mile from the bus stop to the trail head. There are signs near the bus stop pointing to Manoa Falls. You can take a bus to Ala Moana if your hotel is not within walking distance. Be sure to get a transfer when you get on the first bus so you won't have to pay for the second bus. The cost is $2.50 (exact change). Discounts are available for children and seniors.
Tour buses:
A number of tour companies take bus or van tours to Manoa Falls. Inquire at your hotel. The hotel can put you in touch with these tour companies. This option will be quite a bit more expensive than theBus, but it is a lot easier since they will pick you up at your hotel, get you to the right place, and then return you to the hotel. Also, they will usually have a knowledgable guide.
Taxi Cab:
Cabs are numerous in Waikiki. They are more expensive than theBus, but will get you there and back a lot faster.
More Information
There is a bathroom (more like an outhouse) near the beginning of the trail. Better restrooms are available at the adjacent Lyon Arboretum. The arboretum, which is free, offers several nice trails.
The trail is free. The only cost is transportation and parking.
Water bottles and mosquito repellent is available from the parking lot attendant or from Rainbows End snack shop.
Several scenes from the TV series Lost and the movie Jurassic Park were filmed on the Manoa Falls trail.
Suggested itineraries:
Hike Manoa Falls in the morning. Have an early lunch at Treetops or Rainbows End. Visit Lyon Arboretum after lunch. You'll still have time to hit the beach at Waikiki before the sun goes down.
Hike Diamond head early in the morning before it gets too hot since there is no shade. Hike Manoa Falls late morning or early afternoon. Visit Lyon Arboretum late afternoon. Hint: If you don't have a car, take a cab from Diamond head to Manoa Falls. It will cost more, but save a whole lot of time compared to taking theBus.
If you have a car: Visit the punchbowl in the morning. Take a scenic drive around Tantulas and Round Top Drives. Each lunch at Treetops or Rainbows End. Hike Manoa falls after lunch. Visit Lyon Arberetum.